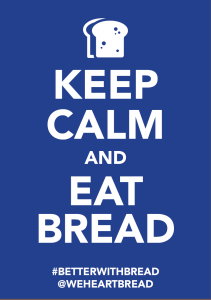 CLEAN-EATING PARODY, 'DELICIOUSLY STELLA', LAUNCHES SPOOF CARB-FREE RECIPES TO SHOW WE ARE #BETTERWITHBREAD
This year the nations bakers have teamed up with clean-eating satirist Deliciously Stella to create a series of tongue-in-cheek Instagram videos, showing what life would be like if we didn't eat bread. The spoof films are their latest campaign celebrating the health benefits of the much-loved food and showing the ridiculous reality of cutting bread out from our everyday meals (avocado on toast, jam on toast and boiled eggs & soldiers).
The films have been created to challenge the clean-eating trend that has wrongly demonised eating bread. It comes off the back of new research that reveals two fifths of young women cut out bread to maintain a healthy weight (41%), nearly half (47%) believe it's an unhealthy source of carbohydrate and only a fifth (22%) are aware that it's a low salt and low sugar food.
The #BetterWithBread campaign research also found that despite the popularity of the clean-eating lifestyle, a quarter of young women admit they find the trend annoying, as it puts unrealistic pressures on them and makes them feel guilty about their current diet (20%).
The series of three videos 'Deliciously Stella's World Without Bread' can be viewed on Stella's Instagram feed @DeliciouslyStella or the Bakers and Millers of Britain's twitter handle @WeHeartBread
"Jam on Toast"
"Boiled Eggs and Soldiers"
"Avocado on Toast"