Easy Eggy Bread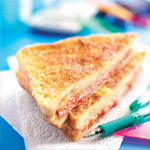 Perfect for an after school snack or for a tasty weekend brunch, these hot sandwiches will go down a storm with the whole family.
Serves four
8 slices medium thick white bread
Butter to spread
2 tbsp tomato chutney (optional)
1 (175g) pack wafer thin sliced ham
100g cheddar cheese sliced
3 medium eggs beaten
6 tbsp vegetable oil
Spread the bread with butter and top four slices of bread with tomato chutney, ham and cheese. Sandwich together with the other slices of bread.
Beat the eggs with a pinch of salt and pepper and pour into a large shallow dish. Dip the sandwiches one at a time in the egg, turning them until well coated with egg. Heat the oil in a large non-stick frying pan, add the sandwiches two at a time and cook for 2-3mins each side until the egg is golden brown.
Serve hot.
---
Choco-fruit treats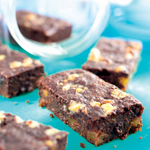 These sticky chocolate bars are perfect for packing into lunchboxes. They're packed full of healthy dried fruit and bread, low in added sugar and compared to some biscuits and cakes low in fat too. What's more they keep well – up to 5 days in an airtight container – that's if they last that long!
Makes 14 bars
225g wholemeal bread crusts removed
300ml milk
4 tbsp cocoa powder
100g no soak dried apricots
100g raisins
100ml orange juice
100g dark soft brown sugar
2 large eggs
75g white chocolate, chopped
Preheat the oven to 170C/Fan 150C/325F/Gas Mark 3. Lightly oil a 26×16.5cm/10×6.5in oblong cake tin and line with baking parchment.
Break the bread into pieces and place in a large bowl. Warm the milk and cocoa together; pour over the bread and leave to soak for 10 mins. Use a fork to mash the bread until smooth. Place the apricots, raisins and orange juice in a small pan, bring to the boil. Remove from heat and cool. Beat the sugar and eggs together. Stir the egg mixture into the bread, along with the fruits and two thirds of the chocolate. Pour the mixture into the prepared tin and scatter over the remaining chocolate. Bake for 30mins or until firm to the touch. Leave to cool in the tin.
---
Luxury bread and butter pudding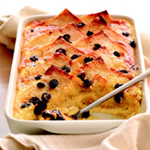 Serves six to eight
50g raisins
Zest and juice 1 orange
6 medium slices white bread, crusts removed
40g softened butter
300ml milk
300ml double cream
1 large egg
3 large egg yolks
½ tsp vanilla essence
6 tbsp caster sugar
Mix the raisins, zest and juice together and leave to soak for 10 mins. Preheat the oven to 170C/Fan 150C/325F/Gas Mark 3.
Spread the bread with the butter and cut each slice in half diagonally. Beat the milk, cream, eggs, vanilla and 4 tbsp sugar together.
Lay 4 slices of bread over the base of a 900ml shallow ovenproof dish. Arrange the remaining slices of bread on top, overlapping them slightly. Scatter over the raisins, zest and juice. Pour over the cream mixture and leave to soak for 15 mins.
Scatter over the remaining caster sugar. Place the dish in a large roasting tin and pour boiling water from the kettle to come half way up the outside of the dish. Bake for 35-40mins or until the custard has set in the middle and top is golden brown. Serve hot or warm.
---
Banoffee royale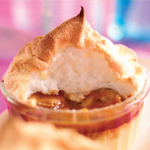 A twist on a real classic British pudding – layers of custard topped with bananas and toffee sauce and a crisp layer of meringue – who could resist? Jars of toffee spread are sold in most supermarkets with the jams, but if you prefer use chocolate spread instead.
Serves six
4 large eggs
300ml milk
1 can condensed milk
75g fresh white breadcrumbs
4 tbsp toffee spread
2 bananas, sliced
75g caster sugar
Preheat the oven to 170C/Fan 150C/Gas Mark 3. Butter a six 175ml/6floz ramekin dishes. Heat the milks together in a small pan until almost boiling. Stir in the breadcrumbs and mix well. Beat the three egg yolks together with one whole egg, add the milk mixture and mix well. Pour the mixture into the prepared dishes and bake for 25-30 mins or until just set.
Top the custard base with the toffee spread and sliced bananas. Whisk the egg whites in a clean grease-free bowl until they form soft peaks. Fold in the sugar and spoon on top of the custard. Bake for a further 10-15 mins or until the meringue is set and pale golden. Serve warm.