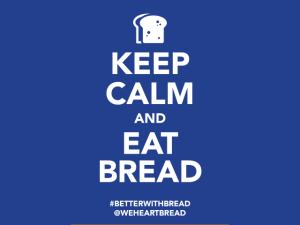 A new series of tongue-in-cheek Instagram videos launch today, showing what life would be like if we didn't eat bread, as part of a new campaign to celebrate the health benefits of this much-loved dietary staple.
Starring clean-eating satirist Deliciously Stella, comedian Bella Younger shows the ridiculous reality of cutting bread out from our everyday meals (avocado on toast, jam on toast and boiled eggs & soldiers) if people choose to succumb to a 'carb-free life'.
The spoof videos are the latest campaign from the nation's bakers and have been created to celebrate bread as a national treasure and challenge the clean-eating trend that has wrongly demonised it. It comes off the back of new research that reveals two fifths of young women cut out bread to maintain a healthy weight (41%)*, with nearly half (47%) believing it's an unhealthy source of carbohydrate and only a fifth (22%) being aware that it is a low salt and low sugar food.
Bella Younger, comedian behind Deliciously Stella said: "It has become my life's work to ridicule how the 'clean-eating' trend has gone too far. It's madness to think sliced bread has become the enemy, but people will happily eat more artisan breads, like sourdough, as they have a perception it's healthier. All bread, no matter where its sold, is created equal, made using the same primary ingredients -water, yeast, flour. There are just so many meals that just aren't the same without it, plus it's a great source of energy and at only 80 calories a slice, it's a low-fat option. It's time to get real and make bread the hero again."
The #BetterWithBread campaign research also found that despite the popularity of the clean-eating lifestyle, a quarter of young women admit they find the clean-eating trend annoying, as it puts unrealistic pressures on them and makes them feel guilty about their current diet (20%).
The series of three videos 'Deliciously Stella's World Without Bread' can be viewed on Bella's Instagram feed @DeliciouslyStella or the Bakers and Millers of Britain's twitter handle @WeHeartBread.