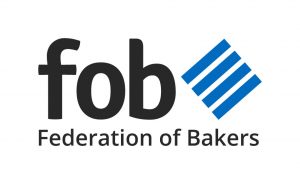 The Federation of Bakers is delighted to unveil a new visual identity to include a brand new logo, website and domain name following its recent move to new premises at 10 Bloomsbury Way in Central London.
FOB Director, Gordon Polson, commented "Our recent move after nearly 20 years at Catherine Street to a more modern, open-plan working environment alongside other food and drink colleagues has prompted the FOB to review and update its existing logo, website and domain. We feel the fresh new design and corporate image is a fitting way to mark the start of the next chapter."
You can visit the new FOB website at: fob.uk.com.
Ends
Notes to Editors:
For further information please contact the Federation of Bakers Press Office on 020 7025 6641 or email: federationofbakersteam@redconsultancy.com
About the Federation of Bakers:
 The Federation of Bakers represents the interests of the UK's largest baking companies who manufacture sliced and wrapped bread, bakery snacks and other bread products.