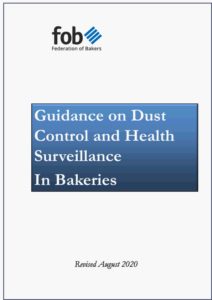 The FOB has published the latest version of the 'Blue Book' industry guidance on Dust Control and Health Surveillance in Bakeries (2020).
This guidance has undergone a comprehensive review by the FOB's Health and Safety Committee and provides information and advice for bakers and others working in the food manufacturing industry which, if followed, will help them reduce risk arising from employee exposure to flour and other ingredient dusts.
Following the guidance will also help employers in the industry meet their duty of care for employees and contribute to ensuring health and safety compliance. In particular, the guidance provides advice on how to assess dust levels in the work-place and outlines a range of practical measures which can be taken to reduce dust exposures as low as reasonably practicable.
It also contains useful advice on health surveillance.