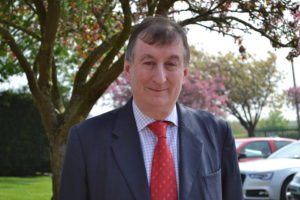 The Federation of Bakers (FOB) has announced today (24th November) that Mike Roberts from Roberts Bakery has been reappointed as the organisation's Chairman. The announcement, which was made at FOB's first virtual AGM, ensures continuity throughout the business from one of the oldest family bakers in the UK. In addition, Brian Irwin from Irwin's Bakery has been reappointed Deputy Chairman and Steve Cook from Fine Lady Bakeries has once again been named the company's Treasurer.
Gordon Polson, Chief Executive of the Federation of Bakers, says: "We are delighted to be reappointing Mike, Brian and Steve to our executive board. They bring with them unlimited expertise from three major bakery businesses and are valuable assets for the industry, especially during these unprecedented times."
Mike Roberts, Chairman of the Federation of Bakers, says: "Firstly, I'm very honoured to have been reappointed as Chairman of the Federation of Bakers, the last few months have been particularly challenging for our industry and I'm proud of how we have responded. At one point we saw a significant increase in demand for bread and bakery across all grocery channels. Whilst these levels have now plateaued, it is great to see how the nation has reinvigorated its love for bread and I hope that this is a trend that continues for many years to come."
The Federation of Bakers Ltd represents the UK's largest bakeries who supply the nation's bread and morning goods and other bread products.  With eight member companies running 32 bakeries in the United Kingdom and supplying the majority of the bread consumed in the UK FOB members include Delifrance UK, Fine Lady Bakeries, Geary's Bakeries, Irwins' Bakery, Jacksons Bakery, Kerry Ingredients, Roberts Bakery and Warburtons.
To find out more about the Federation of Bakers visit www.fob.uk.com
-Ends-