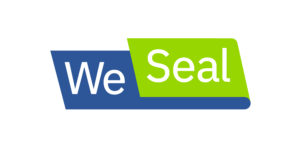 The Federation of Bakers (FOB) is delighted to welcome We Seal as a new associate member.  We Seal are the resealable, recyclable bag seal experts. Recently re-branded from Select Bag Sealers, they have been sealing and resealing some of the world's biggest bread brands for the past 30 years. 95% of the UK's bagged bread is sealed the We Seal way.
We Seal is proof of the power of small. Their innovative tape seals and reliable, low-maintenance sealing machines are surprisingly small but the impact of their bag sealing solutions can be felt worldwide. Their resealable and recyclable tape seals, machines and support, provide a single, innovative solution for food brands – simplify high-speed production, lock in product freshness, reduce food waste, making labelling clearer and safer. What's more their solutions are 100% recyclable.
With this passion for sustainability and recycling, We Seal don't just talk about plastics and recycling, they take action. Educating the consumer to understand how to recycle plastic bags and tape seals through BreadBagRecycling.org,  supporting our customers in their sustainability strategies and by redesigning their products to ensure that they can not only be recycled but are renewable and sustainable.
Richard Hobson, CEO at We Seal comments: "We Seal was founded for two key reasons. Firstly, to provide customers with a single. joined-up solution for tapes, seals, sealing machines, servicing and maintenance, and free them up to concentrate on their businesses. Secondly, we wanted to push the possibilities of sealing to the next level.
After 30 years, I'm still passionate about making sealing safer, cleaner, simpler, easier and, most importantly, sustainable.  And by manufacturing recyclable and resealable tape seals and campaigning for polythene and polypropylene collection and recycling, we're leading the way to a greener future."
Gordon Polson, Chief Executive of the Federation of Bakers, added: "We are delighted to welcome We Seal as an associate member of our organisation and hope to support them as they continue to expand their business."
The Federation of Bakers Ltd represents the UK's largest bakeries who supply the nation's bread and morning goods and other bread products.  With nine member companies running 34 bakeries in the United Kingdom and supplying the majority of the bread consumed in the UK.  We Seal joins current associate members AAK (UK), AB Mauri UK and Ireland, ADM Milling, AIB International UK, American Pan UK, Baker Perkins, Bakers' Basco, British Bakels, Bühler, Campden BRI, CSM (UK), Energy Management LLP, GB Ingredients, FlexLink Systems, Kaak Group, Kwik Lok, Lesaffre Group, NFU Mutual, Puratos, Spooner Industries, St Pierre Groupe, TasteTech, The Ice Co, United Bakery Equipment Co, Zeelandia and Zeppelin Systems.
To find out more about the Federation of Bakers visit www.fob.uk.com
Ends