The FOB has run a number of pro-active PR campaigns on behalf of its members aimed at consumers, health professionals and media influencers to:
raise awareness of FOB as a source of information on bread and bakery
to educate the consumer on the health benefits of bread
to protect and improve the image of sliced and wrapped bread in the media and refute any misleading articles.
Here are some examples of our successful and innovative Bread campaigns.
#BetterWithBread Campaign (2017-18)
In the summer of 2017 FOB launched a pop-up café in Shoreditch with a difference . The Toast or Hands Café was designed to remind hungry young Londoners that life is #BetterWithBread.
For one day only, this single ingredient café gave out free unicorn toast (an on trend creation using natural food colouring and cream cheese), to celebrate how the much loved sliced loaf is also a nutritional powerhouse and to show what life would be like if we didn't eat bread. Low in fat and sugar, and with the UK having lowest salt levels in Europe, it was time to bring back the love for this great food. For any clean eaters who remained unconvinced, they had the chance to enjoy their favourite toppings but off their hands instead…
FOB launched a series of tongue-in-cheek Instagram videos showing what life would be like if we didn't eat bread, as part of a campaign to celebrate the health benefits of this much-loved dietary staple.  Starring clean-eating satirist Deliciously Stella, comedian Bella Younger shows the ridiculous reality of cutting bread out from our everyday meals (avocado on toast, jam on toast and boiled eggs & soldiers) if people choose to succumb to a 'carb-free life'.
The spoof videos have been created to celebrate bread as a national treasure and challenge the clean-eating trend that has wrongly demonised it. It comes off the back of new research that reveals two fifths of young women cut out bread to maintain a healthy weight (41%)*, with nearly half (47%) believing it's an unhealthy source of carbohydrate and only a fifth (22%) being aware that it is a low salt and low sugar food.
Bella Younger, comedian behind Deliciously Stella said: "It has become my life's work to ridicule how the 'clean-eating' trend has gone too far. It's madness to think sliced bread has become the enemy, but people will happily eat more artisan breads, like sourdough, as they have a perception it's healthier. All bread, no matter where its sold, is created equal, made using the same primary ingredients -water, yeast, flour. There are just so many meals that just aren't the same without it, plus it's a great source of energy and at only 80 calories a slice, it's a low-fat option. It's time to get real and make bread the hero again."
The #BetterWithBread campaign research also found that despite the popularity of the clean-eating lifestyle, a quarter of young women admit they find the clean-eating trend annoying, as it puts unrealistic pressures on them and makes them feel guilty about their current diet (20%).
The series of three videos 'Deliciously Stella's World Without Bread' can be viewed on Bella's Instagram feed @DeliciouslyStella or the Bakers and Millers of Britain's twitter handle@WeHeartBread.  Or take a look in our media library.
Powered by Bread Campaign (2016-17)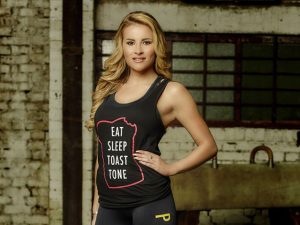 This summer the Federation of Bakers continued its joint PR work with FAB teaming up with reality TV star Georgia Kousoulou for a second time to continue our work to positively change the way consumers, but young women in particular, perceive bread.
Together with Georgia and athleisure retailer Active in Style, we launched Powered by Bread, the nation's first range of sportswear inspired by the important contribution bread makes to a balanced diet.  Our aim was to emphasise bread's status as a healthy carbohydrate perfect for fuelling an active lifestyle both inside and outside the gym. The clothes featured fun and quirky bread-championing slogans designed to appeal to health conscious, young women.
Media were keen to speak to Georgia about the launch of the active wear and why she chooses to fuel her work outs with bread. Coverage appeared in print and online across a range of consumer and national titles, including Mail Online, Sun Online, Reveal, New and Closer magazine.
A survey conducted before the campaign revealed almost two thirds of young women were unaware of the benefits of bread as a source of healthy carbohydrate to fuel exercise. Contrastingly our post campaign survey revealed that 70% of women who saw the campaign now agree bread can be eaten as part of a healthy diet. The results demonstrate how the campaign is helping to change perceptions of bread among young women, and convince many that carbs are an essential part of a healthy, active lifestyle.
We Heart Bread Campaign (2015-16)
Bread by Georgia (2015)
FOB launch its new WeHeartBread Campaign fronted by reality TV star Georgia Kousolou who relaunches an 'exciting new product'.  Georgia was engaged as the face of this new campaign to help  raise awareness of the nutritional role that bread can play – specifically targeting women who follow a reduced or no carb diet.  Watch Georgia's video here:
Christmas Carbs (2016)
FOB launched a series of Christmas Cards 'play your carbs right' to encourage festive revellers to eat sensibly before hitting the party circuit to avoid over indulging.
1203_FABFOB Play your Carbs right_Version1_FA_MEDIA_01
1203_FABFOB Play your Carbs right_Version1_FA_MEDIA_02
1203_FABFOB Play your Carbs right_Version1_FA_MEDIA_03
Slice of Life Campaign (2013-15)
Don't Feed the Ducks (2015)
This Spring, at various Royal London parks, signs went up asking the public not to feed the ducks and to save the bread for themselves. In an unusual partnership, the country's bakers and conservationists have come together to ask the nation to re-think feeding the ducks, in a bid to prevent bread wastage and remind families of the benefits of eating bread.  This initiative was part of the Slice of Life campaign, which the nation's bakers are running to promote bread in daily life.
Lisa Faulkner, supporter, celebrity chef and mum of one said, "Bread is low in fat, high in calcium and fibre, plus slices offer natural portion control. We know families have enjoyed feeding the ducks for generations but recent research from the Wildfowl and Wetlands Trust shows that it can be harmful to them. However, bread can and should be eaten by humans –it is an important part of any healthy balanced diet."
Nutritionist and spokesperson for British bakers Amanda Ursell commented; "White bread has been unfairly demonised in the minds of the British public. It's a great source of calcium, fibre, nutrients and other vitamins for all family members. In moderation it's not bad for wildfowl but it's important to remember that there are more suitable things to feed ducks. And you could do worse than have a healthy sandwich on white bread for breakfast, lunch or dinner. Stale bread too can be used in many ways – to add bulk to vegetable soups or for an indulgent bread and butter pudding."
Gordon Polson from FOB commented, "This campaign has an underlying health message for both the public and wildlife.  We have seen that feeding birds bread not only leads to health problems developing, but they also get 'hooked' on it, meaning they don't forage for their natural foods. Feeding the ducks is an excellent way for the public to have contact with birdlife, but we'd encourage people to buy grains from pet shops or cut up green vegetables. This initiative allows us to reinforce this plea and as part of a bigger health campaign, get people eating bread and NOT giving it away to the ducks!"
Despite bread having a high nutritional content, bread is regularly the first food that is excluded when dieting, and has been unfairly demonised by fad diets. No popular slimming clubs advocate cutting out bread altogether and evidence from the National Diet and Nutrition Survey even suggests that people who regularly eat bread, are more likely to have a healthy diet overall[1].  With an average slice of bread containing as little as 72 calories, it is a good way of filling your body up with much needed protein and fibre, without eating too many calories.
Don't Feed the Ducks was piloted across all eight Royal Parks throughout April/May and was then rolled out to councils across the UK.
[1] Bread consumption in the British Population: Steer et al (ibid)
Toast Soldiers/Breakfast Boots (2014)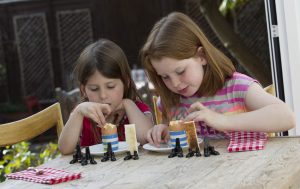 The Federation of Bakers designed 'Breakfast Boots' to hold toast as part of its on-going campaign to promote bread as part of a healthy, balanced diet. These fun accessories for your children's morning egg and toast allowed kids to slot their toast soldiers into the breakfast boots holder – a play on the traditional British 'egg and soldiers' where toast (soldiers) are dipped into a soft-boiled egg.
Gordon Polson, Director of the Federation of Bakers said "this campaign is another example of our commitment to promoting bread as part of a healthy diet".
Eau de Toast (2013)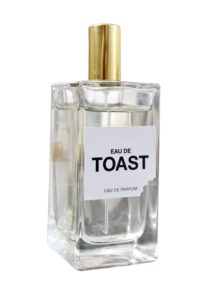 A new fragrance, Eau de Toast, was created by the country's bakers to remind the nation's women who skip breakfast just what they're missing.
Launched to co-incide with the start of London Fashion week 'Eau de Toast', a limited edition scent was created by The Federation of Bakers to challenge the fashion for bread-free diets.  The perfume was sent to some of the fashionistas in attendance, with members of the public able to order the fragrance online*. It was created as part of the Federation's Slice of Life Campaign, which promotes bread in daily life.
Gordon Polson of the Federation of Bakers explained the reasoning behind the unusual partnership. "We wanted to find a way to reach young women and talk to them about breakfast and the benefits of eating sliced bread without lecturing them.  Eau de Toast lets us do this in a fun way while making a point about diet and how to get the best start to the day."
Supporting the Federation of Bakers' campaign is nutritionist Amanda Ursell, who commented: "Bread is an important part of a healthy balanced diet – not only is it low in calories but what people often don't realise is that it's packed full of good stuff too: average consumption of about two slices provides at least 10% of an adult's daily allowance of calcium, zinc, magnesium, protein and B vitamins[i].  "Most people think 'bread equals carbs' and in reality the common myths that carbohydrates and bread lead to weight gain simply don't stand up.  In fact, in recent years we've seen the levels of bread consumption falling, whilst obesity figures have been steadily on the increase.  As a nutritionist it's great to see the Federation of Bakers supporting this initiative to bust these bread myths and raise awareness about the benefits of bread"
The Federation of Bakers commissioned The Aroma Company to produce the scent, which has been developed using yeast top notes with a hint of caramel combined with complementary bitter-sweet and malty base notes to help give the overall impression of freshly toasted bread.
[i]National Diet and Nutrition Survey: http://www.ncbi.nlm.nih.gov/pmc/articles/PMC3328127/